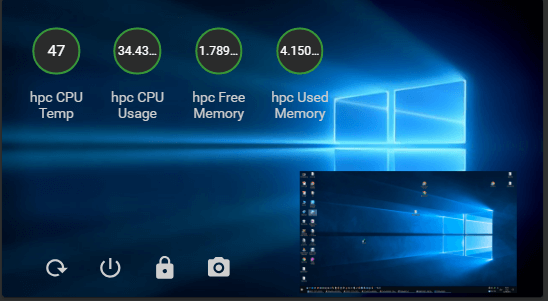 After a long long search for a simple way for a bi-directional communication between my PC and Home-Assistant, i decided to develop a small Mqtt client called "Mqtt Control". this client allows me to send messages to my desktop and display them, lock, shutdown or restart my computer. i can even take a snapshot of my desktop and send it back to Home-Assistant as Mqtt Camera image. more than that i can send telemetry from the computer to Home-Assistant that contains CPU usage and Temperature, Free and Used Memory, HDD info and more.
The client is Dot.Net framework based and can be downloaded from here: https://sourceforge.net/projects/mqtt-control/.
after the installation complete, go to the application path under program files and this is how it looks like:

The sample configuration files folder contains yaml files for the Home-Assistant configuration.
there is another files called MqttControl.exe.config which is the Application Configuration file, this file contains the application configuration of the mqtt server (Broker) Address, Username and password etc.
mqttserver: The Mqtt broker Address.
mqttuser: The Mqtt Username (default is homeassistant)
mqttpass: The Mqtt Password.
devicename: The name of the pc (used in topic name, like "/homepc/restart").
updateinterval: Interval for sending Telemetry to Home-Assistant (in seconds).
autoSnapshot: Automaticly Include Snapshot in the Telemetry (by interval).
publishDriveInfo: Include Drive info in the Telemetry.
debugMode: create file called "debug.json" that contains the published data.
in order to control / send messages to your pc use the following topics:
Restart: /pc_name_in_config/restart/
Shutdown: /pc_name_in_config/shutdown/
Lock: /pc_name_in_config/lock/
Restart: /pc_name_in_config/restart/
Send Message to the desktop: /pc_name_in_config/message/ and payload {"message":"Text to diasplay"}.
Take snapshot: /pc_name_in_config/snapshot/
*** Important Note: Set the Application to run as administrator, it is needed for getting the cpu data ***